Men's Lost State of Franklin T-Shirt
$15.00 USA/CN/MX
$18.00 (Outside USA)
Free Shipping USA, $3 Outside USA.  We created this shirt color when our good friend Dustin accidentally bleached his Black LSF T-Shirt, turning it this unique shade. Suddenly, everybody wanted one.
Color: Brown
Size: Small ,Medium, Large, XL, XXL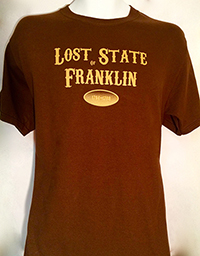 ---
Girl's Lost State of Franklin T-Shirt
$15.00 USA/CN/MX
$18.00 (Outside USA)
Free Shipping USA, $3 Outside USA. Accessories welcome, but not required: This T-Shirt is very stylishly cut and it looks amazing with nearly any color and style of jeans (Or shorts). The sizes run small: A Girls XL is the equivalent of a MENS Small but stretches to the size of a MENS Medium.
Color: Chestnut
Size: Medium, Large, XL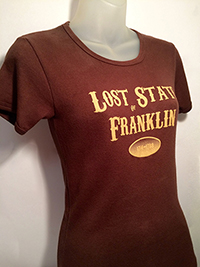 ---
Quarter to Lonely (First Full Length Album)
$15.00 USA/CN/MX
$18.00 (Outside USA)
Many people have purchased this album three, four, 10 times. They play it endlessly, or they give it to friends as a gift. It's Lost State of Franklin's first full length album and includes 15 original works by J Scott Franklin and it continues sounds fresh. Each song has a story and is a story. These pure Americana compositions have been performed all across America and throughout Europe. People who love this album have embraced it and never looked back: It's a true masterpiece.
Songs: Clint Eastwood, Trains, 600 Miles, Fly, Quarter to Lonely, Wandering Man, Been a Lon Time, Cold Day, What I Think, Old Dog, Pickin Pears, 21st Century Woman, Ugly Girlfriend, Credits, Being Careless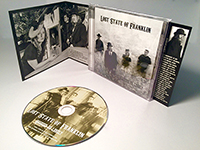 ---
Windshield Sky (Second Full Length Album)
$15.00 USA/CN/MX
$18.00 (Outside USA)
Most of these songs were written right before, during or after the recording of Quarter to Lonely. This album features many tracks with Tyler Postma-Franklin's unique standing drumset style & vocal artistry. The track "Stars" has been affectionately embraced everywhere from Ireland to Germany. Windshield Sky is a continuation of the first album's sound, yet includes new surprises, like the swing original "Made in the USA" with Scott's cool jazz trumpet. Also included is Leadbelly's "In the Pines" (the only cover song ever recorded by LSF. This arrangement is unlike any before. 13 songs, 18 Tracks.
Songs: Won't You, Made in the USA, Mystery Tramp, Don't Know What it Means, Fifty Years Ago, Worth A Shot, Don't Be Mad, Thanks, In the Pines, My Own Damn Love Song, Stars, I'm
So Sorry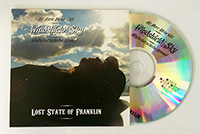 ---
Pretty Things That Grow (Third Full Length Album)
$15.00 USA/CN/MX
$18.00 (Outside USA)
This album is presented in a way in which any lover of lyrical artistry can get lost in these stories. Tyler's female vocals are epically stunning and classy. It's technically J Scott Franklin's album, but most of the guests are in LSF or have performed with LSF. You'll also recognize many of these pieces from the live concerts. The album includes a gorgeous booklet including every lyric to every song and features the photography of Tyler Postma-Franklin, Debra Weber and Elmira Amirova of the Ukraine. It features the Duet, "When I Look Into Your Eyes" which won the Frank Brown International Songwriter Festival Contest.
Songs: With You (Duet Version & Solo Version), Wasting Time, This Heart Goes to 11, When I Look Into Your Eyes, One Home Virginia, Beauty in this Land, Is My Glass Half Empty, Good Old Days, Knock All You Want, 100 Times, Don't Do That Again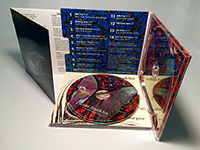 ---
Voice in the Corner (Book of Poems)
$15.00 USA/CN/MX
$18.00 (Outside USA)
This book is an assembly of the poetic works of J Scott Franklin. It ranges from beat poetry to love poems to sonnet-like pieces and poems likened to the style and flavor of Charles Bukowski. Many readers' favorites are the reoccurring "Dear Waitress" poems which may or may not be fictitious. Included is very complimentary afterward by Hank Malone, poet and close friend of Bukowski.
---
97 One Liners and Observations (Original Jokebook)
$15.00 USA/CN/MX
$18.00 (Outside USA)
J Scott Franklin spent his high school years trying like mad to suppress the jokes. When people remarked half-condescendingly, "What do you do, sit at home all day thinking up jokes?", little did they know that for every joke they heard, he held back five. Every event or statement would causes joke upon joke to pop into his head. He thought he was cursed….until he became a poet. That's when he realized that both jokes and poetry are created by looking at one thing and imagining something else. Here are approximately 97 jokes Scott thought of in the car, shower, parties, and conversations. Many of these were written down and saved by Tyler Postma-Franklin who had the forethought to create a book.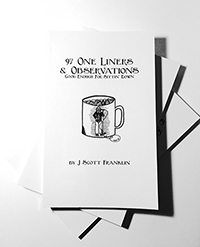 ---
Poetry Book, Jokebook and Sticker
$25.00 USA/CN/MX
$30.00 (Outside USA)
Get both books, sure to equip you for success at any party. Quote the poems near the horderves and tell the jokes on the balcony. Guaranteed to attract like-minded individuals!
(Sticker makes a great bookmark).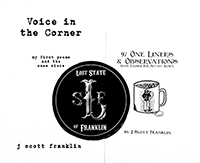 ---
Two Stickers (With Any Other Purchase)
$1.00 USA/CN/MX
$1.00 (Outside USA)
Currently, we have an array of stickers from throughout our history. We will do our best to send the ones you specify, as long as they are in stock. Otherwise, we'll send what we currently have.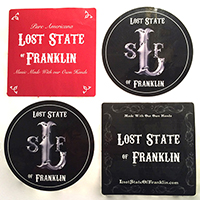 ---
Lost State of Franklin 10 Year Collection
$85 USA/CN/MX
Our collection of cd's and merchandise will grow and change over time, so this collection includes everything that was available at the beginning of 2016; 10 years of Lost State of Franklin.