Lost State of Franklin shares the stage with many gifted & hard working musicians.  Nearly 100% of our performances include Jeremy Cottrell, Dan Morris and Dan Allie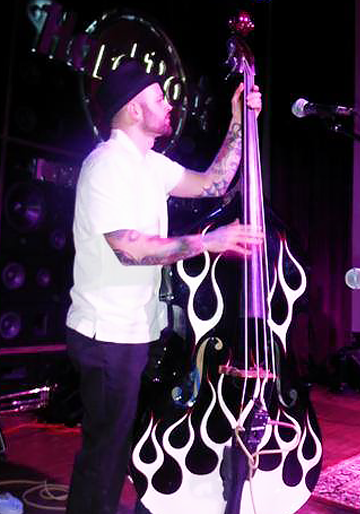 Jeremy Cottrell-Upright Bass, Banjo, Vocals
Jeremy Cottrell is a self taught musician; a guitarist and drummer but is known primarily as a bassist.  As a guitarist, he learned his
craft in south Florida, watching people like Bill Kirchen, Brian Setzer and Lee Rocker live. He led his own Rockbilly/Swing group throughout the area and was featured as a swing dancer in car commercials around Miami.  Along the way, Jeremy picked up an upright bass and has become known as a bassist.  He also fronts his own band, A-Train and the Steamers on Upright.
Jeremy is a painter, costume designer, woodworker, banjoist, entrepreneur, Martial Arts student and composer/lyricist. When not on
tour, he is active daily in the family business, Yorktown Lanes, which was started by his Grandfather almost 60 years ago.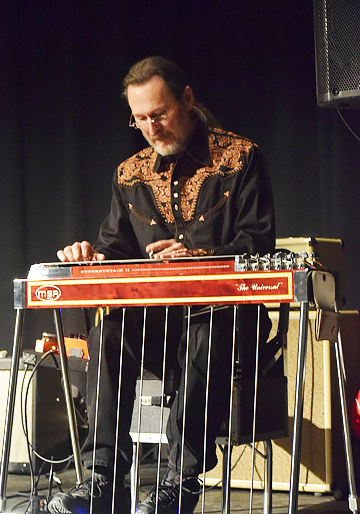 Dan Morris-Lead Guitar
While it wasn't cool to listen to anything country back when he was in high school, Dan Morris did. And he wanted to know, "What's that instrument?" Turns out it was a pedal steel guitar, and he didn't have the sense to refrain from asking a local music shop, "Do you have a pedal steel instructor?" No they didn't, but Dan learned a lot from a man who taught Hawaiian lap steel. Once acquiring a pedal steel, it was mostly learning it on his own.
Dan's first gigs on pedal steel were in a country-rock band, Ida Red, which was well received at the time. Over the years, he's also played gospel, country, Americana, and progressive/art-rock, seeking to expand his palette for using pedal steel in any context, with an emphasis on original music. Highlights include opening for Johnny Cash, and recording with Donnie Iris, with whom he also played live. He's played with GS Harper, California Speedbag, Lost State of Franklin, the Bobby C3, INTRA and others. He regularly employs a bank of effects pedals, because "pedal steel guitar is an instrument, NOT a style".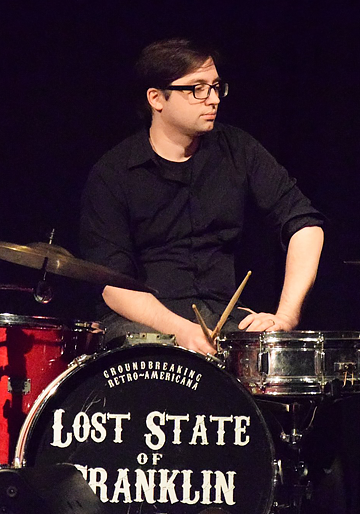 Dan Allie-Percussion
Dan rounded out his high school education by nearly winning a high school rock-off at the Rock and Roll Hall of Fame. He also has a deep history of passing on his love of music through teaching. Dan has played music in every style of band from Rock to Alternative to Punk to Country to Latin to Jazz…. He's also an accomplished Jazz pianist.

He met Scott at the Garfield Heights High School Jazz Band Alumni Concert. There were several amazing drummers that evening, but Scott noticed that when the 17 piece ensemble was the most interactive, he'd look down the trumpet line and See Dan Allie playing drums at the end. They struck up a conversation about LSF and how Tyler would be taking time off for the birth of her & Scott's daughter. Soon, he was on board with LSF and is a perfect fit.